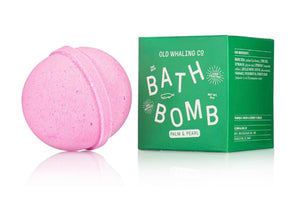 The Cottage Basket
Palm & Pearl Bath Bomb
Regular price
$7.00
$0.00
Handmade with baking soda, citric acid, epsom salts, olive, and soybean oil, Old Whaling Co. 8oz bath bombs will leave your skin feeling moisturized and lightly scented. Our bath bomb's soothing fizz and sea-inspired fragrance are perfect for a relaxing soak, rejuvenating the senses and cleansing the skin.
At a 2.75" round, our bath bombs are perfect for a single bath. Use caution when entering or exiting the tub, as the oils that make our bath bombs moisturizing can also make for a slippery tub.
Palm & Pearl is a subtle fragrance made up of serene florals that inspire tranquility.
---
More from this collection